A remarkable highlight of the recent Yalari Brisbane Dinner was watching as four of our students received outstanding leadership and resilience awards. The children were excited (and possibly a little nervous!) as they took to the stage to be applauded and celebrated.
A huge thank you to our national corporate partners and extraordinary friends at
Herbert Smith Freehills
(HSF) for donating the awards and the ever-delightful Kirsty Faichen (Senior Partner) for presenting them.
Tilly David – Year 7 St Margaret's Anglican Girls' School
HSF – Junior Resilience Award
Tilly David is a proud young Torres Strait Island woman. As a descendant of King Kebisu, Tilly and her family call Yam and Tudu Islands and waters in the central Torres Strait as their country. She has grown up away from traditional country in Biloela, in the Banana Shire in Central Queensland.
She started her boarding school journey at St Margaret's Anglican Girls School in Brisbane this year.
Tilly has a very outgoing personality and the determination to keep going when things get tough. She is supported by her parents Emma and Gus, in attendance here tonight and sponsored by the Judith Musgrave Family Foundation.
Tilly is always willing to help those in her cohort as well as those in the older year levels; whether it is assisting them in understanding their schoolwork or just being a person that lends an ear.
Tilly is also quite the team player and is currently playing volleyball, netball, cricket, and basketball. When she isn't at school or playing a sport, you can almost guarantee you'll find her making TikTok videos with her peers in boarding. Tilly has a smile that can light up a room and a laugh that is so infectious that you can't help but smile and laugh along with her.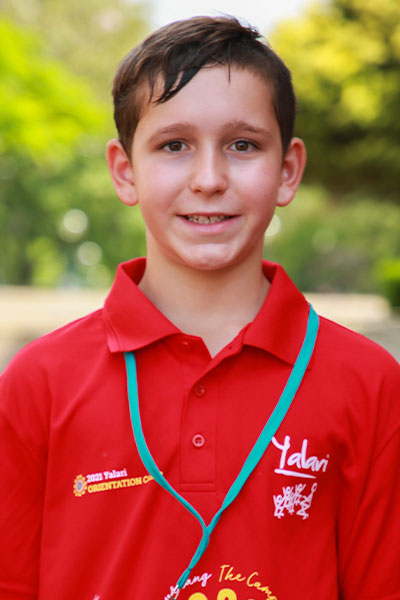 Tate Pyziakos – Year 7 The Southport School
HSF Junior Leadership Award
Tate Pyziakos is a proud young man whose bloodlines extend back to Tagalaka where his grandmother and Nanna grew up in North Queensland. Tagalaka Country covers various lands in the Gulf Savannah region around the townships of Croydon, Normanton and East Hayden.
Tate has followed in the footsteps of his older brother Eli to attend The Southport School on his Yalari scholarship. Tate, who is sponsored by Archie & Mary Lou Douglas has transitioned exceptionally well into boarding school life, especially living with 40 other boys!
Tate is not satisfied with settling for good results, he strives to be great. Supported by his parents Rochelle and Paul who are in attendance tonight, Tate has been encouraged to develop strong positive habits focused on always putting his best foot forward. And he has certainly done that in his first year of boarding. Tate was recently elected after a vote from his peers as Vice-Captain of his boarding house, Rogers House. 
When he is not out on the Rugby field or studying his academic workload, Tate is actively engaged in learning how to master the didgeridoo. Tate always shows respect, is eager to learn and continues to strive for excellence. We believe that Tate is destined for further leadership roles as he continues to grow in confidence.
It is for these reasons, and many others that we would like to announce Tate as the recipient of the Herbert Smith Freehills Yalari Junior Leadership Award for 2021.
Reghan Bayles – Year 11 Toowoomba Grammar School
HSF Senior Leadership award
Reghan is a proud Larrakia and Wakka Wakka man from Eidsvold. Currently in Year 11, he has boarded at Toowoomba Grammar School since year 7 on a Yalari scholarship and is now the Yalari captain. He has made the most of his time at boarding school, balancing numerous co-curricular activities and various sports with a dedication to his academics that is to be commended.
As well as playing GPS rugby and contributing to the Track and Field team, he plays in the Volleyball A team. He has represented his house, Boyce, in numerous sporting events but also balanced this with a great deal of service contributions, volunteering at the Toowoomba East State School and at the Toowoomba West Special School and participating in the AEIOU Take a Hike fundraiser. He is a member of the student representative committee, the Interact club and just recently, did a wonderful job as MC at the TGS Indigenous Boys' Family Dinner and speaking eloquently at the Annual NAIDOC Assembly. All of this, combined with receiving awards for diligence in his studies and maintaining a high GPA average, has led to him being awarded his full colours.
Reghan works hard both in and out of class and has embraced the pressure that comes with senior years study with a quiet air of confidence, as he works towards his goal of tertiary study in Paramedicine. Taking all of this into account, as well as being the Yalari Captain and an extremely well-regarded member of Boyce, Reghan is an incredibly worthy recipient of the the Herbert Smith Freehills Yalari Senior Leadership Award. 
HELP INDIGENOUS CHILDREN RECEIVE A QUALITY EDUCATION, TO DREAM BIG AND ACHIEVE!
SUBSCRIBE TO THE NEWSLETTER
Yalari respects our Elders, past and present, and acknowledges that our office is on Kombumerri country within the lands of the Yugambeh language group